April 17, 2012 in make up
Burgundy is my favorite shade of red and it can make even a girl next door look like a seductor ;). I love to wear the burgundy lips with natural glowy makeup, a sleek hairdo and some fun accessory (like the headbands Sara and I are wearing) to take the edge off.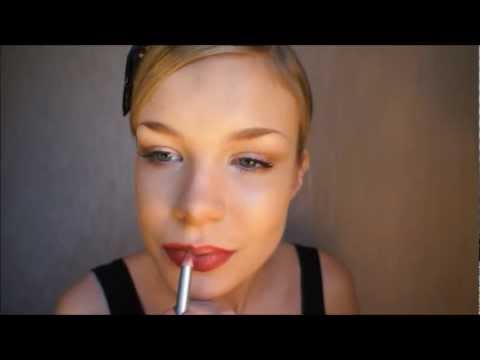 1. Ahava Deadsea Algae Light Foundation (Sand, Mediun Light). One of the best foundations for natural looking coverage. It just gets better during the day. As the name of it says, it has a light coverage, but Ahava has the same foundation with a heavier coverage that goes with a name "rich foundation".
2. Maybelline Dream LumiTouch Highlighting Concealer. I've been blogging about this concealer several times already. It's my favorite :).
3. IsaDora Oil Control Compact Powder (Stop Shine! 69). My favorite compact powder. Just a fine layer of it is enough.
4. L'oréal ColorAppeal Trio Pro (403 Golden Fidelity). Check out the point 6.
5. IsaDora Bronzing Powder (Highlight Tan 45). The packaging is so pretty and radiant and the product is great as IsaDora's products always are.
EYES
6. L'oréal ColorAppeal Trio Pro (403 Golden Fidelity). As I've mentioned before, I'm not a huge fan of L'oréal's eyeshadows. Nevertheless the colors in this palette are beautiful and they have a nice pearly glow in them. I used the lightest color for the cheekbones, arch and the inner corners of my eyes and the darkest color for the outer corners of my eyes.
7. Rimmel Sexy Curves (001 Black). A great mascara when you don't want mega lashes. Separates beautifully and gives lenght.
BROWS
8. Rimmel Brow Pencil (001 Dark Brown). Rimmel has great brow colors, this is definitely on of them.
LIPS
9. Parisax Professional Crayon Lèvres (Prune). This intensifies the color of the lipgloss geniously and helps it last longer.
10. Revlon ColorStay Mineral Lipglaze (555 Overtime Wine). Firstly, I gotta say that I love the name of the lipglaze :D. It has a fine shimmer in it that gives even more texture to the glossiness.
BRUSHES
11. Sephora Professional Foundation Brush.
12. "No brand" blush brush.
13. "No brand" eyeshadow brush.
So… I hope you enjoyed the luscious lips of Sara and I :)! See you next time!
Love,
Noora :)