April 12, 2012 in hair, make up
Girls just wanna have fu-un… Cyndi Lauper sure knew what she was talking about ;)! This hair and makeup is designed just for that! The foundation and the lipstick are long lasting ones (tested by me, read on to find out more) so you don't have to worry about retouching. Remember also that the hair can be semi-messy, as it get's like that anyway while dancing like crazy ;). Good luck!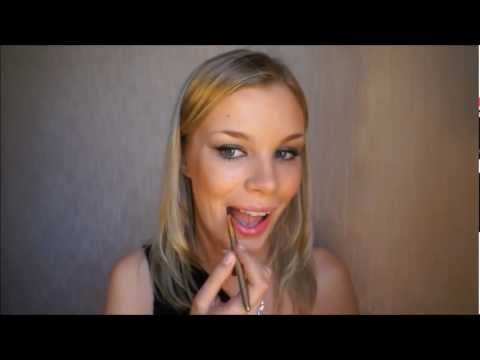 The products that I used…
FACE
1. L'oréal Infallible Brush 24h (140 Golden Beige). Good coverage, super matte finish. This foundation makes your skin surprisingly perfect looking :)! Even the brush that comes with it is a semi-good one; I already broke mine, that's why you see me using a separate foundation brush. The foundation might be a bit heavy during the daytime but I totally recommend this it for a nights out. It's promised to last for 24 hours, I personally find these kind of promises a bit of an exaggeration, but I can tell you that it lasts better than an average foundation.
2. Maybelline Dream LumiTouch Highlighting Concealer. My favorite concealer! Has a great coverage.
3. Nuobeier Professional Fashioncolour (10). This is probably the least expensive makeup item I have. Honestly it smells like cheap. Anyway, concidering it's price (which was like 1 €) the color and the light shimmer it has are SO PRETTY, that I concider it a good investment.
4. IsaDora Oil Control Compact Powder (Stop Shine! 69) &  5. IsaDora Bronzing Powder (Highlight Tan 45). IsaDora's products never fail! They are simply great!
EYES
6. L'oréal ColorAppeal (223 Smoky Steel). I'm not a huuge fan of L'oréal's eyeshadows (I prefer a lot more the IsaDora's ones) but this one performs just well and the metally color is great and it has just the right amount of shimmer in it. I used only the lighter shade of this palette.
7. Rimmel Brow Pencil (001 Dark Brown). Great color for multiple use ;).
8. Rimmel Exaggerate Eye Liner (001 100% Black). Probably the best liquid eyeliner I have ever tried! It's ultra black (as the name tells you) and the brush is just the right size for easy eyelining. A great product I must say.
9. L'oréal Volume Million Lashes (Black). My favorite mascara!!! I'm a huge mascara freak, and always trying to achieve the fullest and the longest lashes. This one is great for both and separates well as well.
BROWS
10. Rimmel Brow Pencil (001 Dark Brown). Check out the point 6.
LIPS
11. Melvita Soft Shea Butter. A great lip butter. Check out my Top 4 Lip Balms here.
12. Rimmel Lasting Finish Lipstick (004 Indulgence). Great color! Looks even pinker in real life. It has a great coverage that doesn't dry out your lips. And lasts while eating! Sara and I tested it after the shoot :)!Now when I think about it, I need to get more of these :D!
BRUSHES
13. Sephora Professional Foundation Brush.
14. "No brand" contouring brush. A proof that very affordable brushes can have a great quality.
15. "No brand" eyeshadow brush.
16. Ahava Skin-Loving Makeup Brush. One of my favorites. Amazingly soft and blends any product beautifully!

Ok guys, I hope you enjoyed this tutorial! Don't forget to subscribe to my YouTube Channel :)! See you next time! Byeee!
Love,
Noora